10 Essential Business Benefits of the NEC UNIVERGE SV9100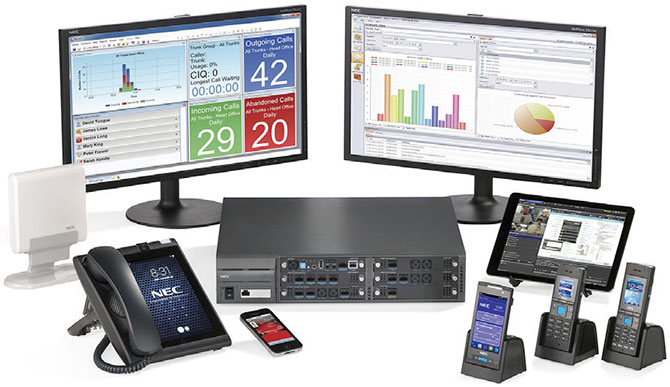 1. Get a smarter workforce.
> Link up your office teams, homeworkers, warehouse and field-based sales team together for more a productive, reachable workforce.
> Better communications mean better informed business decisions – don't wait for that weekly meeting!
> Presence: Get a 'bird's eye' view of your entire team's activity in real-time.
---
2. Future-proof your business.
> Cost effective solution from 10 to 900+ users – plenty of capacity for an expanding business.
> Latest upgradeable communication technology – protect your investment.
> Netlink: Add remote sites and new branches easily without the need or cost for a new system.
---
3. Get free applications!
> Free MyCalls Basic call management app: Includes real-time call activity display, call logging and reports.
> Free MyCalls Desktop productivity app: Includes Instant Messaging, Screen-Pops and Speed Dials.
> Free Mobile Extensions: Provides your mobile with business system functionality.
4. Intelligent call recording.
> Take credit card payments over the phone with PCI compliancy.
> Help prevent potentially costly litigation during a dispute with proof of who said what.
> Secure access to your recordings, playback and storage.
---
5. Defend yourself against Toll Fraud.
> Built-in application.
> Cost of Toll Fraud to UK businesses – £1.2bn per year.
> Help prevent potentially thousands of pounds lost to fraudsters.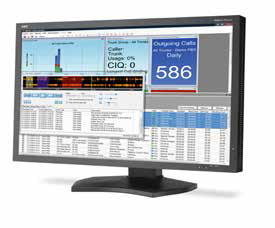 ---
6. Stop losing business from abandoned customer calls.
> Deal with call traffic spikes more effectively helping prevent customer hang ups.
> Identify any lost calls instantly to your team for a swift follow-up call.
> Predictive Abandonment – Automatically identify when calls are likely to be missed and sends alerts accordingly.
---
7. Treat your customers like royalty.
> Caller ID: Greet your regular customers by name on a call.
> VIP priority: Caller Queue drag & drop to ensure your most important callers get the attention they deserve.
> CallBack: Offer your callers a return call to reduce their holding time (and frustration!).
---
8. Cut your costs.
> Audio and video conferencing: Save on travel and accommodation costs.
> Answer more incoming enquiry calls first time, saving on call backs.
> Multiple carrier: Select the cheapest call rates for your business.
> NEC Door Phone: Enable other team members to easily cover reception duties during quieter periods, saving on staffing costs.
---
9. Manage your team's activities.
> Presence: Real-time snapshot of all your teams communications and meeting status, even remotely.
> MyCalls wallboard: Display live stats of your call centre's results.
> Reporting: Automated reports on call activity, abandoned call rates and call history.
---
10. Start using truly innovative handsets
> UT880 – the deskphone re-invented with 7 inch colour multi-touch display.
> M155 Messenger – Wearable wristwatch DECT, messaging and alert device: The ultimate solution for healthcare and hospitality environments.
> G966 – the SmartDECT! A combination of DECT, WiFi and Android application support in one handset.
Download NEC UNIVERGE SV9100 Business Benefits PDF Brochure
Download NEC UNIVERGE SV9100 10 Reasons To Upgrade PDF Brochure